Smart and professional business solutions
tizi gadgets are unique, smart and high quality; making them perfect for a business environment.
Use them in the office, on a business trip, travelling in the car, or even as a stylish promotional gift for your customers or colleagues... The possibilities are endless.

tizi Turbolader
Park up and be ready to face the day with a fully charged smartphone and tablet. The tizi Turbolader charges USB devices 3x faster than your car's regular USB port, and supports up to 4 devices at once. Even with your GPS app running, the Turbolader will provide you with super quick charging speeds.
Perfectly suited for...
Taxi drivers / chauffeurs / driving teachers

We definitely find the Turbolader to be the best USB charging device for taxis or chauffeur services. Not only for the driver, but for the passenger too; offering the fastest charging power for all smartphones and tablets in the vehicle.

Car rentals / car sharing
Truck drivers / delivery workers
Fleet managers / company cars
Removal services
Caravan and RV rentals

tizi Tankstation USB-C + 3 USB-A (75W)
The bestselling charging station, tizi Tankstation is now available with a super fast USB-C charging port, as well as an additional three high-power USB-A ports. The ultimate Apple charger for MacBook Pro, MacBook, iPhone and iPad. Perfect for the office!
Perfectly suited for...
Workstations in agencies
App developers testing software on multiple devices
Desks in larger offices
Schools / academies / educational centers
Exhibition stands
Waiting rooms

tizi Tankstelle
The multiple port charging station offers 10% more power and intelligent Auto Max Power™ charging technology on every USB port. Slim enough for travel, classy enough for every public socket.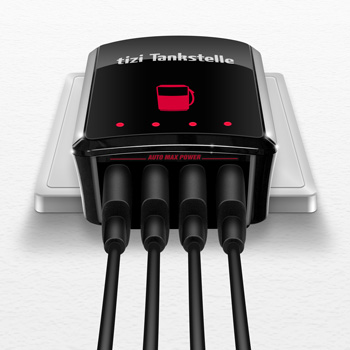 More Power: 5A total
Optimal charging speed: up to 2.4A per port
Easy plug-in design: 4 simultaneous USB ports
Quick charge check with soft LED status dots
Overload and overheating protection
"A gift with genuine value"
The successful marketing agency, team go direct decided to give their business partners an extra special treat for Christmas 2017 by gifting them over 150 tizi Tankstelle. Read the success story...

tizi Spiralkabel
The ultra-flexible cable with Lightning or Micro USB connector is stretchable from 30cm to 1m and is perfect for charging gadgets in the car or at the desk. tizi Spiralkabel charges your Lightning or Micro USB devices fast and safe via any USB port, and also supports efficient syncing with Mac, PC or laptop.



Perfectly suited for...
Taxi firms wanting to offer customers the opportunity to charge their gadgets
Conference rooms
Workstations
Counter tops
Hotel lounges
Exhibition stands

tizi flip ULTRA
tizi flip ULTRA guarantees Ultra fast charging: up to 50% in only 30 minutes!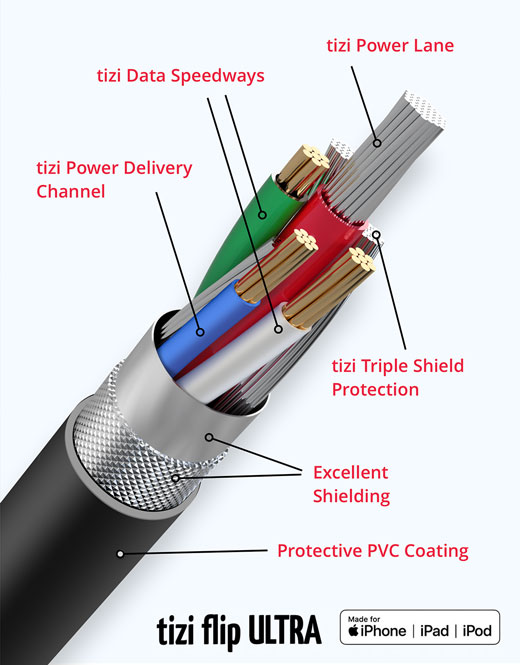 tizi flip Micro USB
One of the most annoying connectors in the world: The Micro-USB connector. Small and fiddly, you never know which way to plug it in. Built-in to smartphones, power banks, E-book readers & speakers – almost every gadget uses Micro-USB. No more swapping and turning: The new tizi flip USB-A to Micro-USB cable. Both connectors are reversible, so they will work both ways. Simply plug in whichever way you want and enjoy top charging speeds.
Flip connector on both sides –

designed to always fit

NEW Available as 1m, 2m, 15cm or 50cm
Choose your style: available in red and black
Charge and sync all Micro-USB devices

tizi Schlitzohr
tizi Schlitzohr makes cable woes a thing of the past: With this clever cable, you'll always have the right charging connector handy – USB-C, Lightning or Micro-USB. Thanks to unique, stackable adapters, you simply turn your cable into the perfect fit for your device.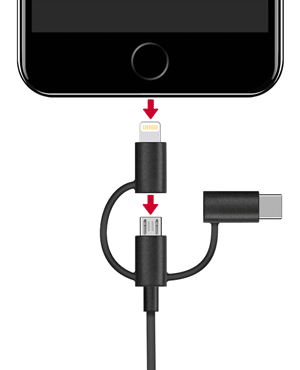 3-in-1 charging cable: USB-C, Lightning, Micro-USB
Officially "Made for iPhone, iPad (MFi)" certified
Data-support – sync your iOS or Android device
tizi Power Lanes for excellent charging speeds
One cable to rule them all – perfect for traveling

tizi Knubbi
No more cable chaos
Simply stick the cable organizer to your desk and keep your cables in place by fixing into the quick snap groove. Keep track of all your cables and never worry about them falling from your desk.

The ultimate little buddy for your tizi charging stations
What's the point in having an awesome USB charging station if you can't keep track of your power cable? The tizi Knubbis are a genius addition to your high-performance USB charging stations: tizi Tankstelle, tizi Tankstation, tizi Turbolader and, of course, to the practical tizi flip cable.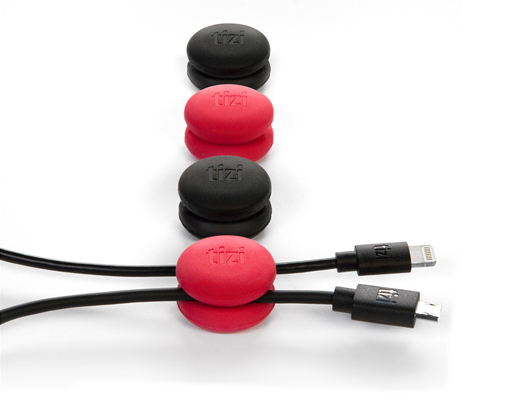 tizi Simmelalbum 8x NANO
Store all your SIM cards safely together with your Amex and Visa cards in your wallet! The new tizi Simmelalbum 8x NANO has enough space for all of your nano SIM cards. Switch and swap whenever, wherever.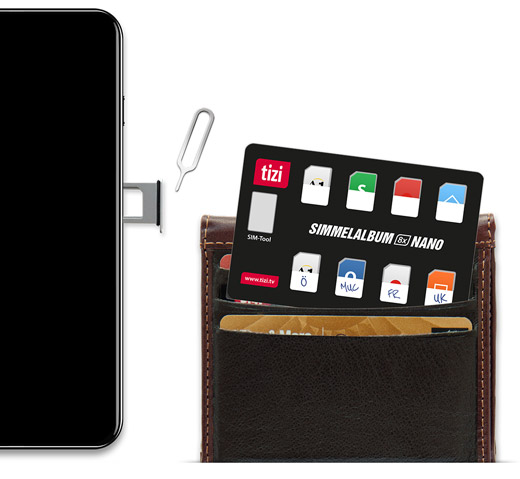 tizi Simmelalbum Universal
Convenient SIM card adapter set with secure storage for 4 SIM cards. Perfect accessory for travellers, commuters, business- and frequent travellers.