"A gift with genuine value!"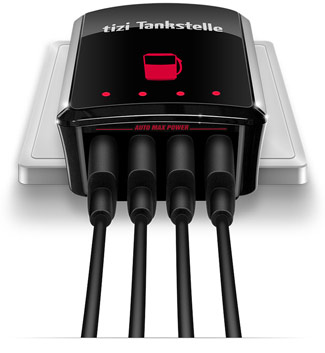 In the marketing world, customer retention carries huge significance. The successful, Hamburg-based marketing agency, team go direct decided to give their business partners an extra special treat for Christmas 2017 by gifting them over 150 tizi Tankstelle. This compact, yet powerful charging station works wonders, not just for your smartphone, but for your business relations too!

Marko Reiß, the CEO of team go direct, spoke with us to provide us with some insight about why him and his team decided the tizi Tankstelle would be the ultimate Christmas gift:
How do you manage to stand out in the highly-competitive agency-market?
Marko Reiß: Our main strengths are predominantly in dialogue marketing. For the last 17 years, we have been advising customers from multiple sectors, including the finance, electricity, and service sectors. We have been working with the majority of our customers for a long time and, over the years, we have managed to build a solid, professional relationship with them. This is partially helped by shared events such as our relaxed presentation evenings.
Have you always sent out gifts to your customers?
Marko Reiß: We've been sending out Christmas gifts ever since the agency was first founded. In the past, these have usually been tech-themed gifts which are useful for everyday life - ideally the gift is gender neutral too.
And the tizi Tankstelle fits the brief perfectly! What made you choose this particular tizi gadget?
Marko Reiß: We want to provide a modern and innovative image of the agency. A lot of the time, gift ideas actually come from members of our team. We decided on the tizi Tankstelle after carrying out a vast amount of research about chargers.
Were there any features in particular which made it stand out?
Marko Reiß: The deciding factor for us when we made the purchase was the product's price to performance ratio, as well as its compact form, which needed to be sent either by post or courier.
Did the unique name of the product play a part in your decision?
Marko Reiß: We all found the name very interesting and unique. It would have definitely played a part in the final decision to buy.
How important is it for you to give your customers a gift of value rather than something which will just end up gathering dust on their desk?
Marko Reiß: Extremely important. The gift has to have a real value and be able to be used by the customer. Ideally in their day-to-day lives so that they are always reminded of us when they use it... It's an innovative branding strategy with no logo required!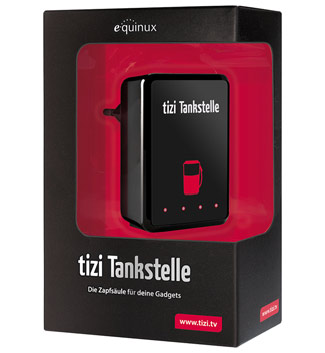 4x charging power wherever you stick it!

Our best selling charging station, in its 5th generation. Get the original. The multiple port charging station offers 10% more power and intelligent Auto Max Power™ charging technology on every USB port. Newly optimized easy plug-in design with style: Slim enough for travel, classy enough for every public socket. Flaunt your power!
We'll make you an offer

Feeling inspired? If you want to gift your customers or business partners a tizi Tankstelle, send us a message! We'd love to make you a personalized offer.