tizi Tankstelle USB-C (60W)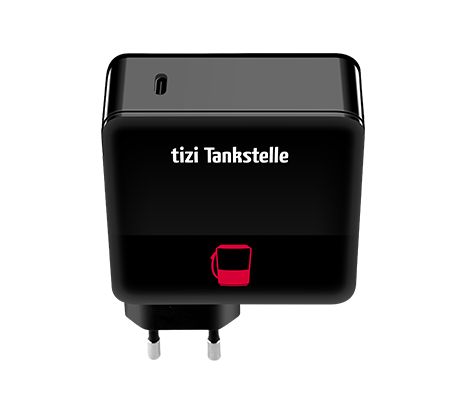 Your USB-C adapter - 100% optimized for your Apple devices
The tizi Tankstelle 60W is the ultimate USB high speed charger with Power Delivery; offering you full compatibility to Apple USB-C PD. Say goodbye to generic and risky charging devices.
100% USB-C Power Delivery for MacBook Pro, MacBook, iPad mini (6th generation), iPad Pro (2018 onwards), iPhone 13, 13 Pro, iPhone 12, 12 mini, 12 Pro, 12 Pro Max, iPhone SE (2nd Generation), iPhone 11, 11 Pro, 11 Pro Max, XS, XS Max, XR, X, and 8
Perfect for the new iPad mini (6th generation), iPad Pro (2018 onwards) and MacBook Air (2018)
Much better value than Apple's 61W USB adapter
Charge your iPhone X up to 50% in just 30 min*
Charges iPad Pro 2x faster* (than with the standard included adapter)
*when using tizi flip ULTRA or an original Apple USB-C to Lightning cable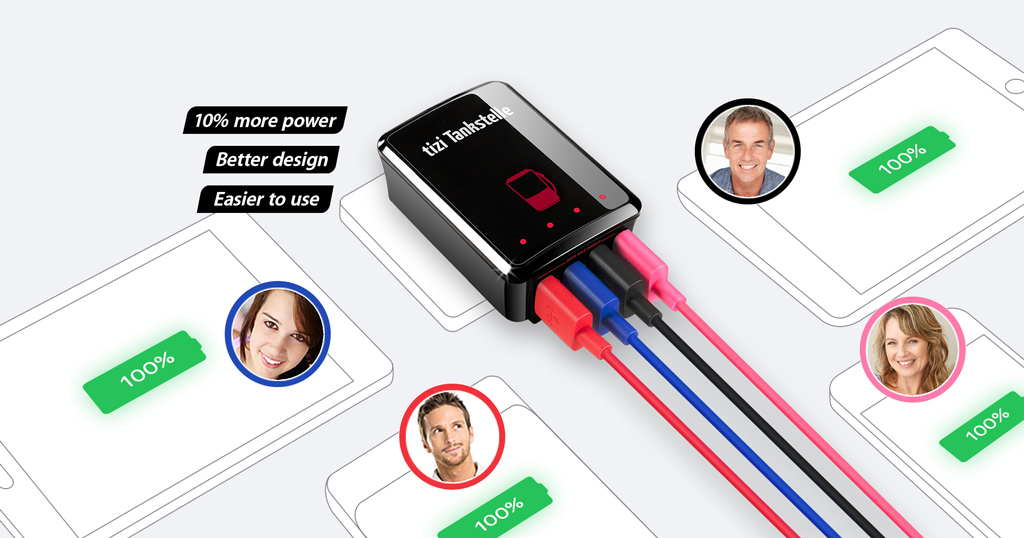 tizi Tankstelle
Bestseller multiple port charging station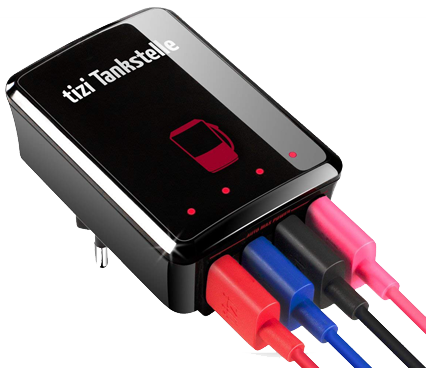 The multiple port charging station offers 10% more power and intelligent Auto Max Power™ charging technology on every USB port. Slim enough for travel, classy enough for every public socket.

More Power: 5A total
Optimal charging speed: up to 2.4A per port
Easy plug-in design: 4 simultaneous USB ports
Quick charge check with soft LED status dots
Overload and overheating protection
Angled & flat: protects cables, creates space
"A gift with genuine value"
The successful marketing agency,
team go direct
decided to give their business partners an extra special treat for Christmas 2017 by gifting them over 150 tizi Tankstelle.
Read the success story...
You might also like...
tizi Schlitzohr
3-in-1 charging cable: USB-C, Lightning, Micro-USB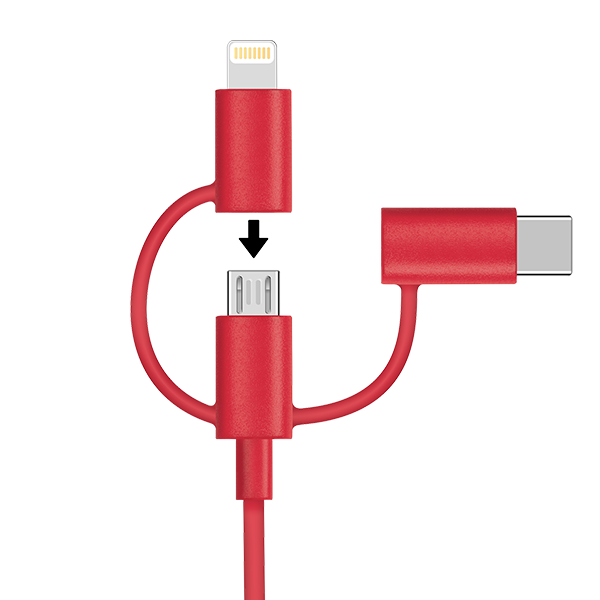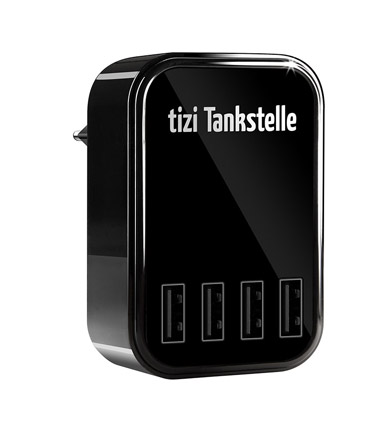 tizi Tankstelle Eco (4 Ports)

The direct way to every gadget
The best selling tizi multi-port charger now available as tizi Tankstelle Eco with four USB charging ports directly on the front side. Perfect for travel and as convenient home charger for design fans. tizi Tankstelle Eco replaces 4 USB charging devices and gives you more space at your wall outlet – no matter if at home or while away.

Fastest USB charging speed: Up to 2.4A per port
Ergonomic speed plug USB-Port placements directly on the front side
Hand luggage suitable: rounded corners and weighs less than 100g

$49.99
Currently out of stock!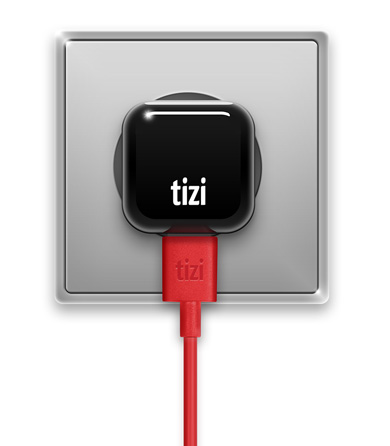 tizi Tankstelle mini (1 Port)

Never forget your charger again
The tizi Tankstelle mini (1 Port) belongs in every bag: it's tiny and weighs next to nothing. You won't even notice you have it until you need it! The tizi Tankstelle mini (1 Port) is a universal USB charging adapter perfect for travel. Use it in hotels, in the airport, or even for at home!

Tiny, ultra compact USB power adapter
One USB port (1A)
Suitable for all smartphones

$24.99
$14.99
Currently out of stock!
Charging stations for ultra fast charging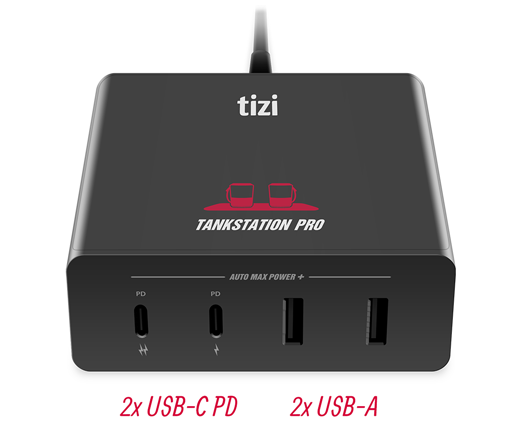 tizi Tankstation PRO (107W)

Booster all your gadgets. Together.
Two high-output PD ports

(96W and 30W) provide enough power for MacBook Pro plus iPad or iPhone



Two additional USB-A ports
100% USB-C Power Delivery with: MacBook Pro, MacBook Air, MacBook, iPad Pro, iPad Air, iPad & iPhone

e. g. Quickly charge MacBook Pro and iPad Pro simultaneously – with the tizi flip PRO (100W) USB-C cable
Compact size - thanks to GaN technology

$109.99
$99.99
Currently out of stock!
In some circumstances during use, audible charging sounds may be heard. This is normal and does not indicate any problems with the device.

The Tankstation PRO is compatible with all MacBook/MacBook Pro/iPad/iPhone models. MacBook Pro (2021) compatibility notice: Please use a USB-C cable for charging. The Tankstation PRO is not compatible with the proprietary Apple USB-C-to-MagSafe-3 cable.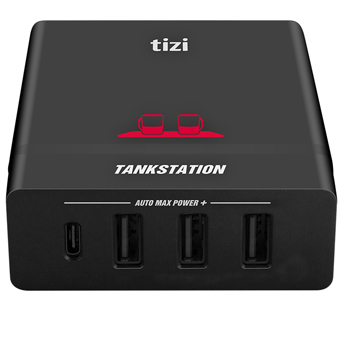 tizi Tankstation USB-C + 3 USB-A (75W)

The USB-C charging solution for Apple devices
100% ready for USB-C Power Delivery with: MacBook Air (2018), MacBook Pro, MacBook, iPad mini (6th generation), iPad Pro (2018 onwards), iPhone 13, 13 Pro, iPhone 12, 12 mini, 12 Pro, 12 Pro Max, iPhone SE (2nd Generation), iPhone 11, 11 Pro, 11 Pro Max, XS, XS Max, XR, X, and iPhone 8
Perfect for the new iPad mini (6th generation), iPad Pro (2018 onwards) and MacBook Air (2018)
In just 30 minutes: charge your iPhone X from 0 up to 50%*
100% backup for Apple's 60W USB-C power adapter
4-in-1 adapter: 1x USB-C PD port plus 3x super speedy USB-A ports
*when using tizi flip ULTRA or an original Apple USB-C to Lightning cable