tizi Tankstation USB-C + 3 USB-A (75W)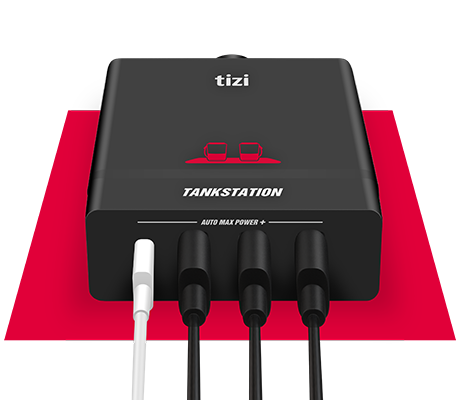 The ultimate Apple charger for MacBook Pro, MacBook, iPhone X and iPad
Enjoy the maximum charging speed offered to you by the newest Apple devices via USB-C PD. The bestselling charging station, tizi Tankstation is now available with a super fast USB-C charging port, as well as an additional three high-power USB-A ports. The ultimate Apple charger – perfect for work, home, and on the go!
100% ready for USB-C Power Delivery with: MacBook Air (2018), MacBook Pro, MacBook, iPad Pro, iPhone 11, 11 Pro, 11 Pro Max, XS, XS Max, XR, X, and iPhone 8
Perfect for the new iPad Pro (2018) and MacBook Air (2018)
In just 30 minutes: charge your iPhone X from 0 up to 50%*
100% backup for Apple's 60W USB-C power adapter
4-in-1 adapter: 1x USB-C PD port plus 3x super speedy USB-A ports
*when using tizi flip ULTRA or an original Apple USB-C to Lightning cable
tizi Tankstation 4x MEGA Toploader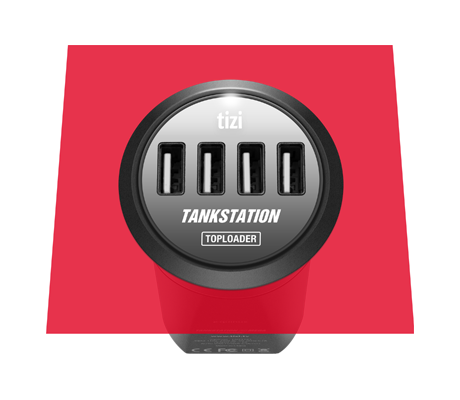 Charging station which can be integrated into desks and other furniture
The new tizi Tankstation 4x MEGA has 4 fast USB charging ports which can be integrated into desks and other furniture as a Toploader. Put an end to the disarray, and equip your furniture with 4 dynamic, convenient USB ports.
Auto Max Power™ dynamically determines the optimal charging current
Delivers High Power (up to 2.4A) per port for fast charging
Charge up to 4 devices simultaneously