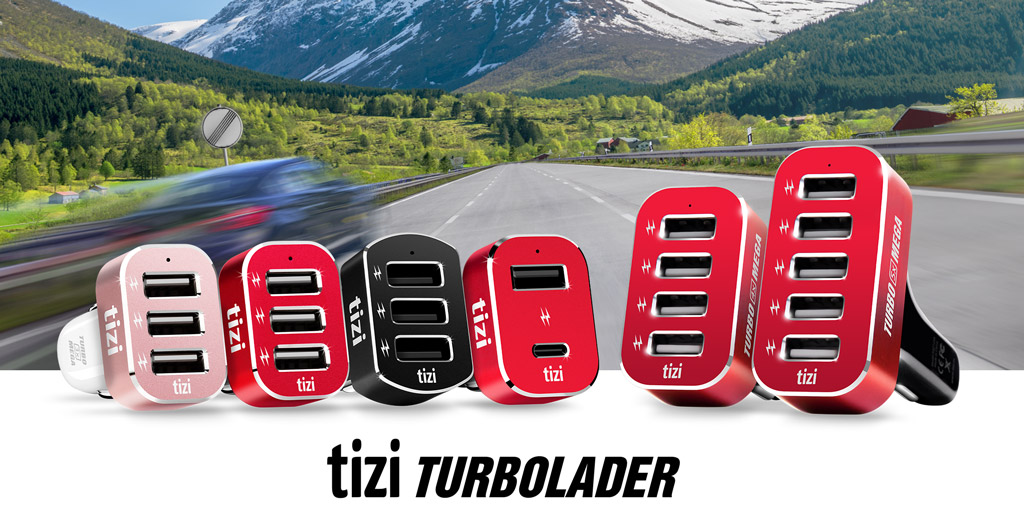 tizi Turbolader 2x ULTRA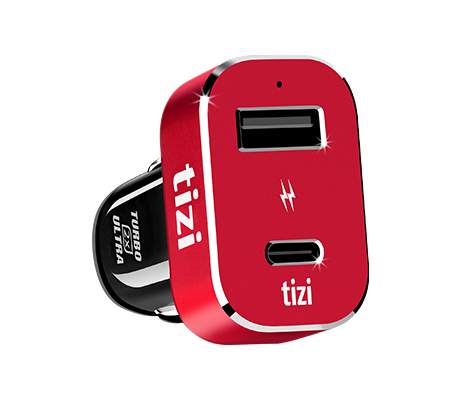 Ultrafast car charger with USB-C Power Delivery

€59,99
€49,99
Currently out of stock!
In just 30 minutes you can bring your iPhone from 0 to 50% battery power*. The ULTRA powered USB-C port even allows you to charge your MacBook and MacBook Air (2018) on the go for the first time ever! Your passengers can also enjoy an additional high speed USB-A port (max 2.4A) to charge standard USB devices.

The fastest tizi Turbolader yet (42W total)
Perfect for the new iPad mini (6th generation), iPad Pro (2018) and MacBook Air (2018), iPhone 13, 13 Pro, iPhone 12, 12 mini, 12 Pro, 12 Pro Max, iPhone SE (2. Generation), iPhone 11, 11 Pro, 11 Pro Max, XS, XS Max, XR, X und iPhone 8
100% Apple compatible

USB-C charger (USB-C PD)

Flexible dual-charging engine:

2 in 1 charger, USB-C + USB-A

Optimal charging speeds

thanks to tizi AUTO MAX POWER+
*when using tizi flip ULTRA or an original Apple USB-C to Lightning cable
tizi Turbo 3x BLACK Premium Edition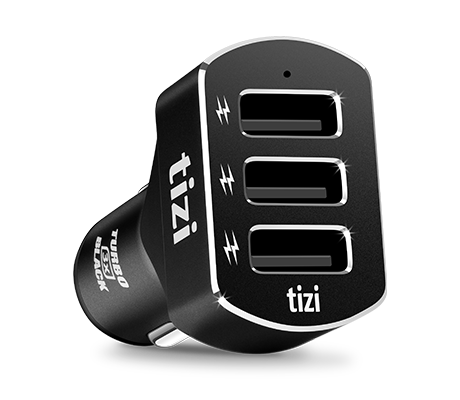 Premium car charger with 3 highspeed USB ports
Unleash your charging adrenaline: the award-winning tizi Turbolader car charger is now available in a luxurious Premium Edition. The stylish matte-black design and high-precision full metal finish house a high-performance chipset, boasting 7,2A and 36W.

Full Metal design: Precision-engineered aluminum body and charging head.
Elegant style: Matte-black body with chrome trim
Shock-absorbing design: extra secure plug mechanism
Power-transmission boost: optimized mass-spring system
Works with truck and boats: Supports 12V and 24V systems
You might also like...
tizi Spiralkabel
Ultra-flexible charging cable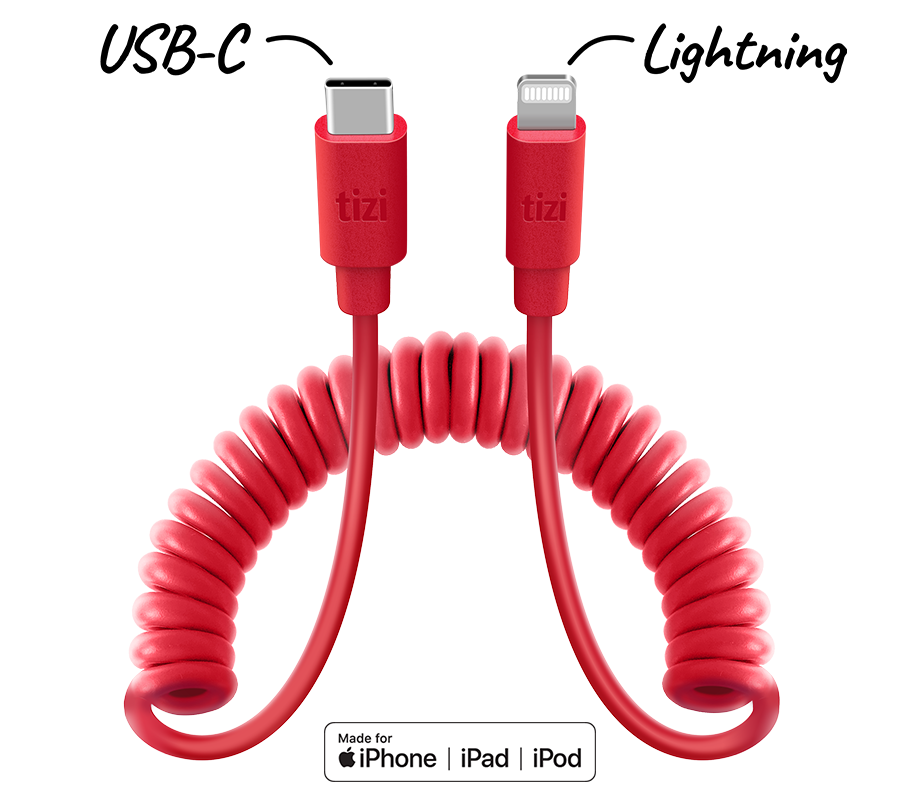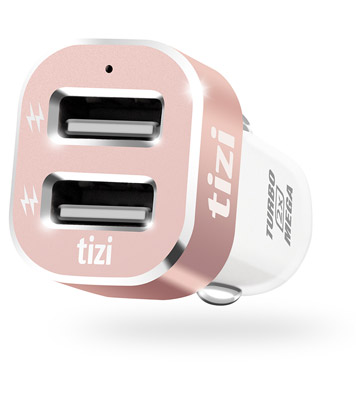 tizi Turbolader 2x MEGA

The elegant 2-seater in Rose Gold

The tizi Turbolader 2x MEGA charges smartphones and tablets up to 3x faster than the leading, integrated USB ports in cars, so you can arrive at work fully charged and ready to go! Even if you're driving with a running navigation app, your iPhone still charges!

Double power: 2 fast USB ports (2.4A per port, max. 4.8A)
Intelligent charging: Auto Max Power Technology
Design: Elegant aluminum head in Rose Gold

€29,99
€19,99
Currently out of stock!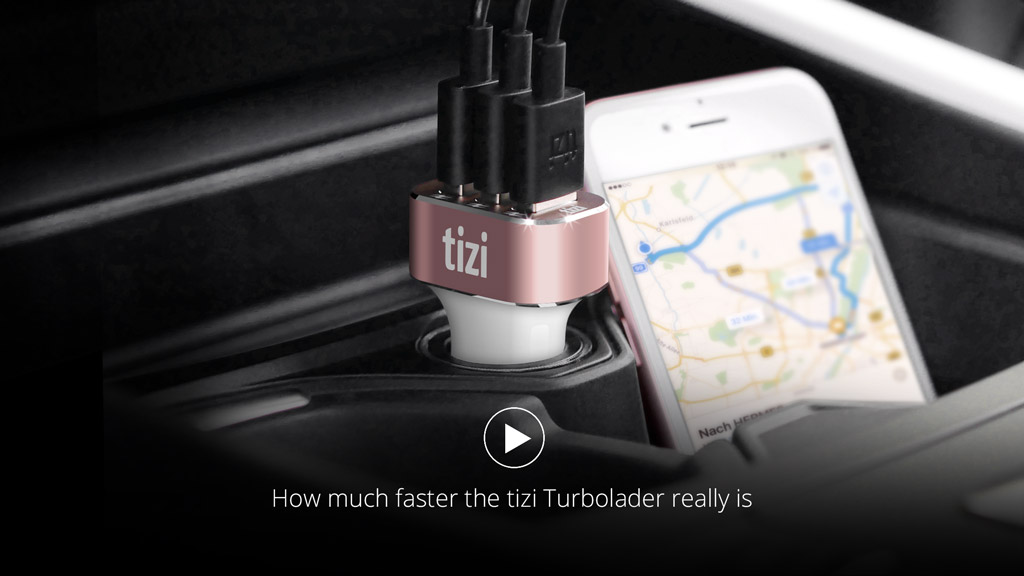 The streamlined powerhouse. Under the hood, the Turbolader 3x MEGA comes equipped with Auto Max Power™, guaranteeing an optimal charge for 3 USB devices. Your iPhone 6 will charge two times faster than with the original charging cable.


Multi-power: charge 3 USB devices simultaneously (up to 2.4A)
Intelligent: recognize the optimal charging speed for each device
Stylish design: slick red/silver aluminum finish
You might also like...
tizi Spiralkabel
Ultra-flexible charging cable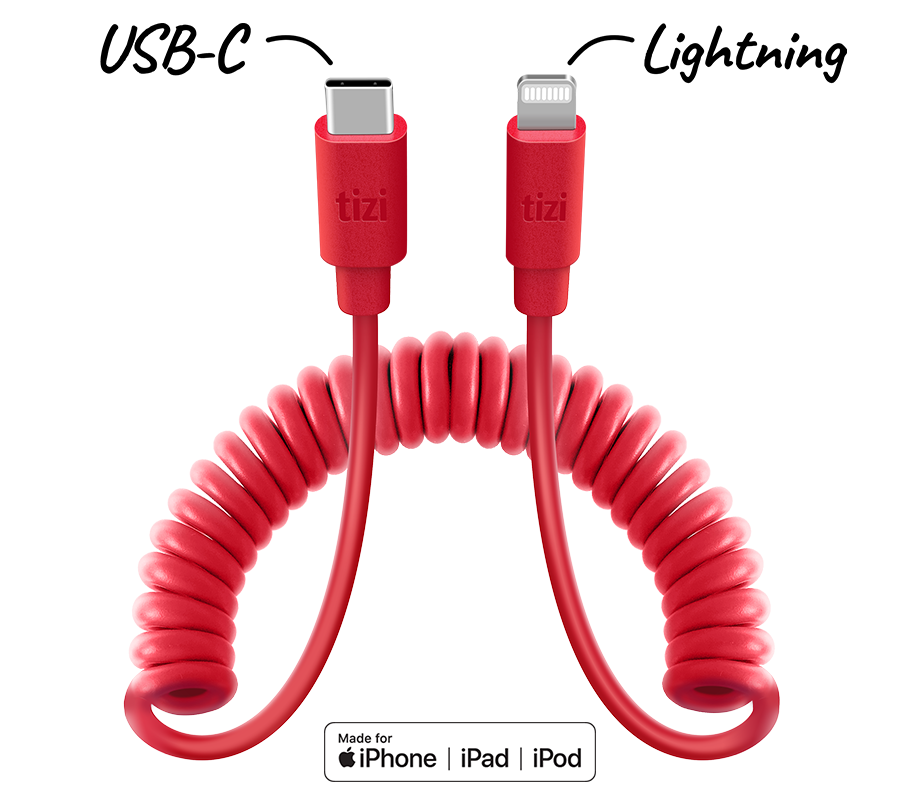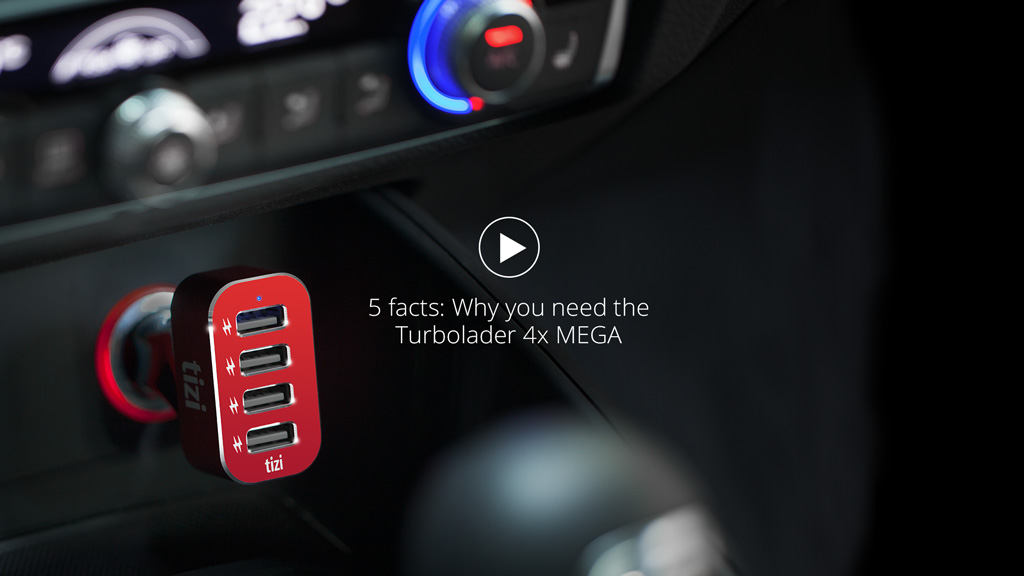 tizi Turbolader 4x MEGA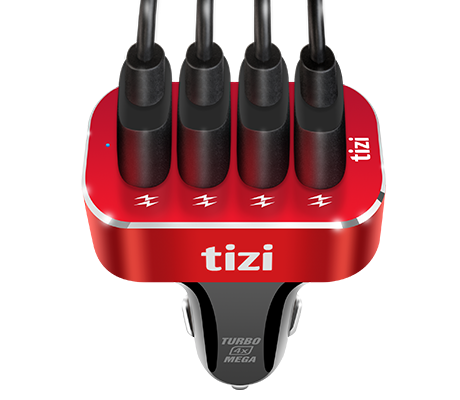 The USB car charger with 4 USB ports for the whole family
4x the charging power in your car. Shift into high gear, and charge 4 USB gadgets with high power at the same time. Start your engines and cruise the charging Autobahn at max speed with the monster truck of all car chargers!


4X Power:

4 ultra fast charging ports (2.4A each port, total: 9.6A)

Intelligent charging assistant: tizi Auto Max Power™ Technology
Perfect cooling

thanks to the large aluminum cooling-body
You might also like...
tizi Köfferchen
Suitcase-style case for your gadgets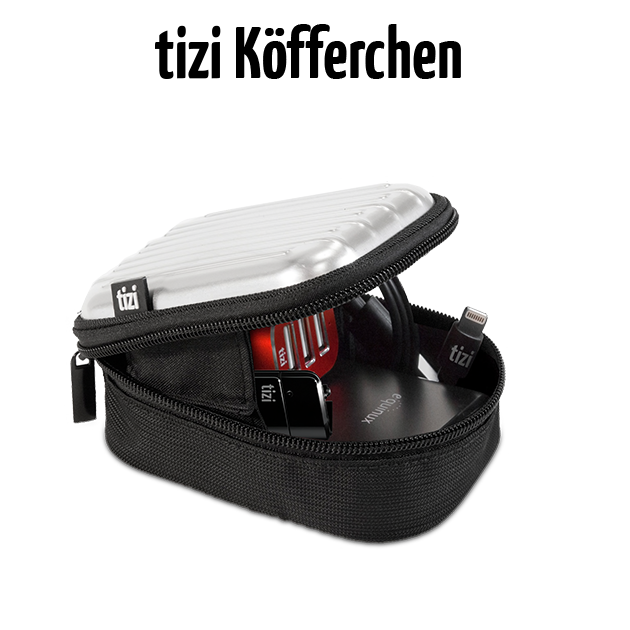 Stylish aluminum look: Light and durable
tizi Schlitzohr
3-in-1 charging cable: USB-C, Lightning, Micro-USB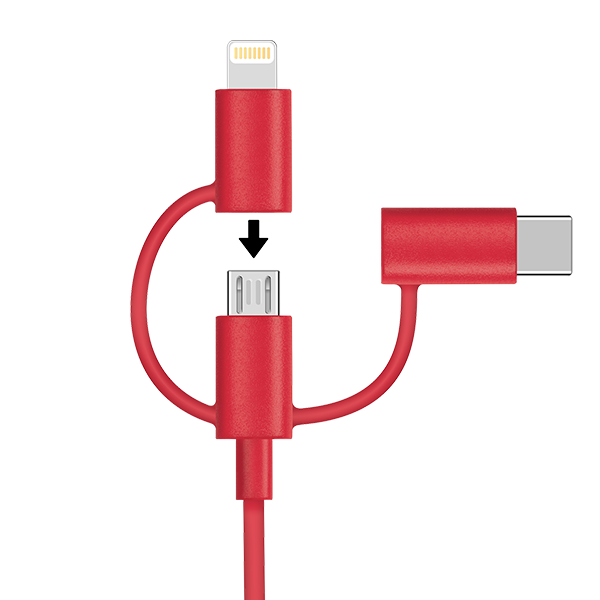 tizi Turbolader 5x MEGA
Ultra fast 12V USB charger for your car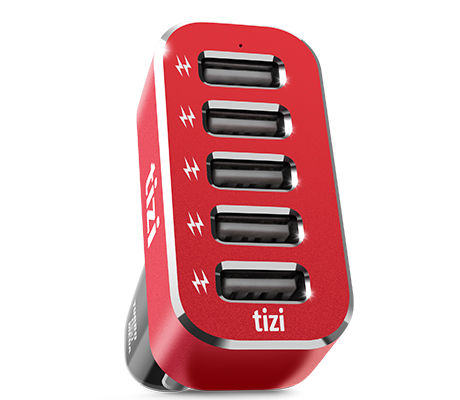 The tizi Turbolader 5x MEGA knows no limits, delivering a whopping 60 watts of power to your car's cockpit. Currently the most powerful USB charger for your car's cigarette lighter socket, delivering the maximum total of 12A to your devices. Charge up to five iPads super fast in your car.

5x ultimate charging power:

5 USB ports (each 2.4A)

German Engineering: Incredible performance with an XXXL aluminum head
Optimal speed on every port: tizi Auto Max Power Technology™
You might also like...
tizi Spiralkabel
Ultra-flexible charging cable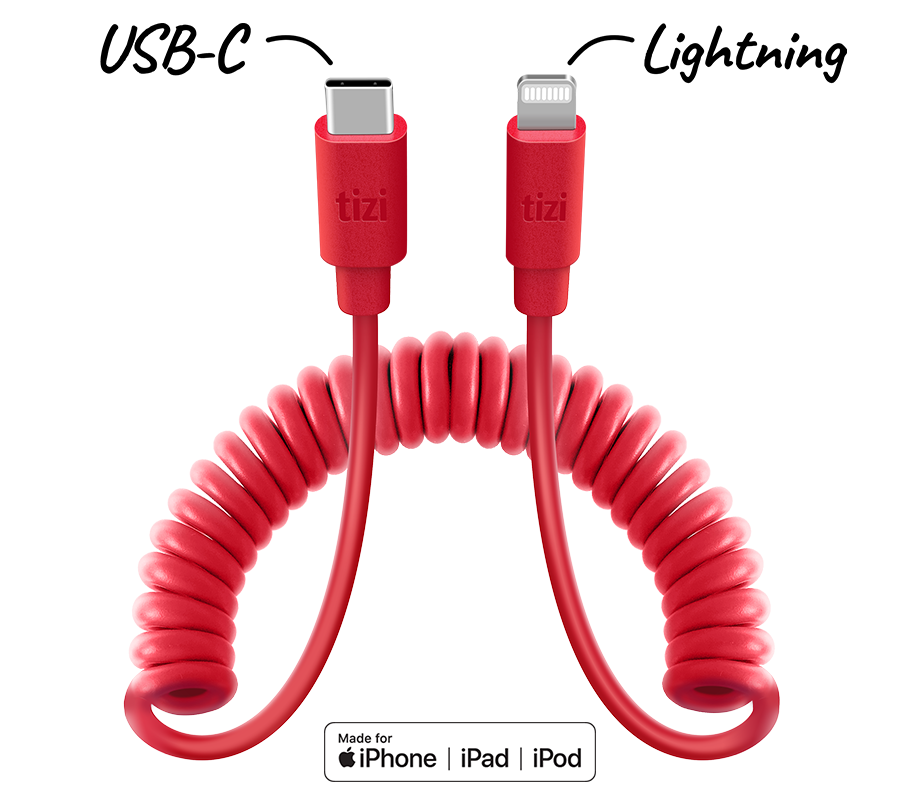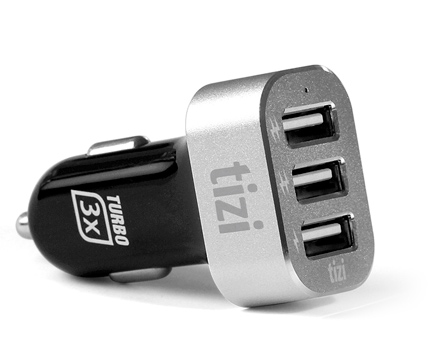 tizi Turbolader 3x

Compact, smart, fast - the original

With two high power and one full power USB port, you can cruise the charging highway without a worry. Charge iPads, iPhones, and Samsung Tabs with just as much power as if they were plugged into the wall socket.

Double turbo: 2x high power (up to 2.1A) for iPads and Galaxy Tabs
Charge 3 USB devices: simultaneously and with speed (5.1A)
High quality aluminum design with a wobble-free, firm grip