tizi Tankstation PRO (107W) - 2x USB-C, 2x USB-A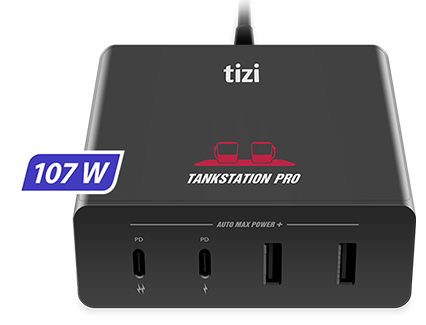 Quadruple high power charging station with 2 USB-C Ports
Two high-output PD ports

(96W and 30W) provide enough power for MacBook Pro plus iPad or iPhone



Two additional USB-A ports
100% USB-C Power Delivery with: MacBook Pro, MacBook Air, MacBook, iPad Pro, iPad Air, iPad & iPhone

e. g. Quickly charge MacBook Pro and iPad Pro simultaneously – with the tizi flip PRO (100W) USB-C cable
Compact size - thanks to GaN technology

In some circumstances during use, audible charging sounds may be heard. This is normal and does not indicate any problems with the device.

The Tankstation PRO is compatible with all MacBook/MacBook Pro/iPad/iPhone models. MacBook Pro (2021) compatibility notice: Please use a USB-C cable for charging. The Tankstation PRO is not compatible with the proprietary Apple USB-C-to-MagSafe-3 cable.

tizi flip PRO (100W)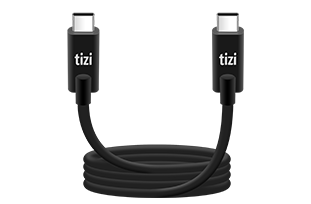 2m long USB-C cable with Power Delivery up to 100W
The tizi flip PRO USB-C to USB-C cable opens up a whole new world of charging speed:
With the 2m long cable, you can charge your devices at top speed - with up to 100W Power Delivery.
USB-C to USB-C with Power Delivery
USB-C PD charging with up to 100W
USB 3.1 data cable for USB-C sync (max. 10 Gbit/s)
Thunderbolt compatible (max. 20 Gbit/s)
Extra long: 2m for countless use cases