tizi flip ULTRA guarantees Ultra fast charging: up to 50% in only 30 minutes!

Premium quality & Apple MFi certified
Genuine USB-C Power Delivery (PD)
Available in red or black
Choose from 50 cm, 1 m, or 2 m lengths
The best tizi quality with genuine PD charging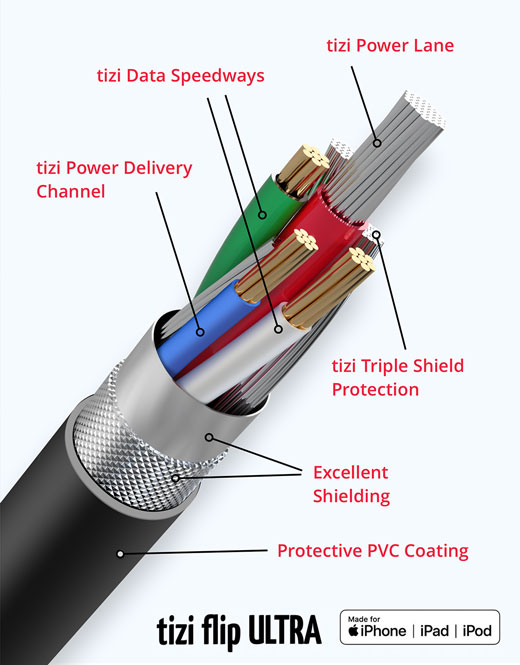 tizi Power Lane
37 single conductors for super speed charging at low resistance

tizi Data Speedways
2 x 7 single conductors: High signal strength for fast data transfer

tizi Power Delivery Channel
For negotiating the PD power rules for the fastest possible charging

tizi Triple Shield Protection
3 x 19 fibres for optimal shielding

Excellent Shielding
Aluminium protective foil and braided shield protection

Protective PVC Coating
Flexible, robust and super resilient exterior
Rhodium-Ruthenium Alloy
Tougher than gold, wear-resistant and corrosion-resistant

PD Guarantee for fast Charging
Some other manufacturers only partly recreate the USB-C connector: It may look the same, but won't offer Power Delivery, or simply won't work as well as it should.

Genuine Quality guaranteed with the tizi Seal of Approval
Protect yourself from cheap fakes!

In red or black

Three Lengths:
Available in 50 cm, 1 m or 2 m lengths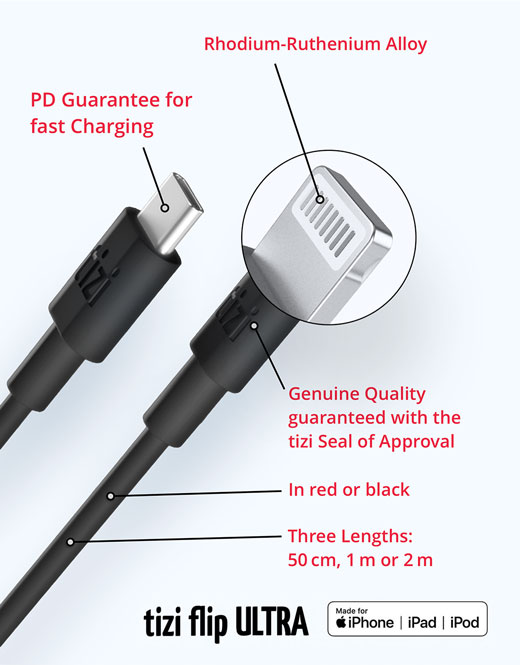 Automatic fast charging for every device
tizi flip ULTRA and the tizi charging stations
You can charge your device at top speed by using the tizi flip ULTRA USB-C to Lightning cable together with the following tizi charging stations: tizi Tankstelle USB-C (60W), tizi Tankstation USB-C + 3 USB-A (75W) and tizi Turbolader 2x ULTRA. Not sure which device model you have? Here's how you can find out the model number of your Apple device.
What is Power Delivery (PD)?
This technology identifies the optimal charging profile between your charger and your device. In order to do this, a PD chip is required in the connector, as well as a dedicated wire in the cable. Although this sounds like a logical, straightforward solution, not all manufacturers go to the trouble of designing their products correctly. Many cables which claim to offer PD have faulty chips or poor transmission; resulting in a poor, or non existent charging performance.
iPhone and iPad
Go to the settings of your iPhone or iPad and tap "General" and "Info." Tap on "Model Number" to reveal the model number of your device (this will start with an "A".)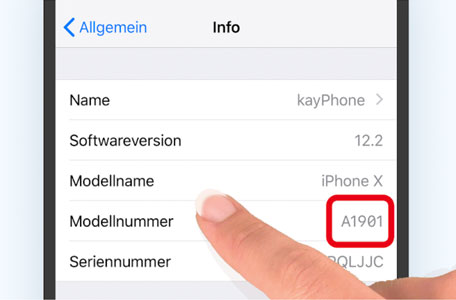 Mac
For your Mac, the model number can simply be found on the bottom of the device.