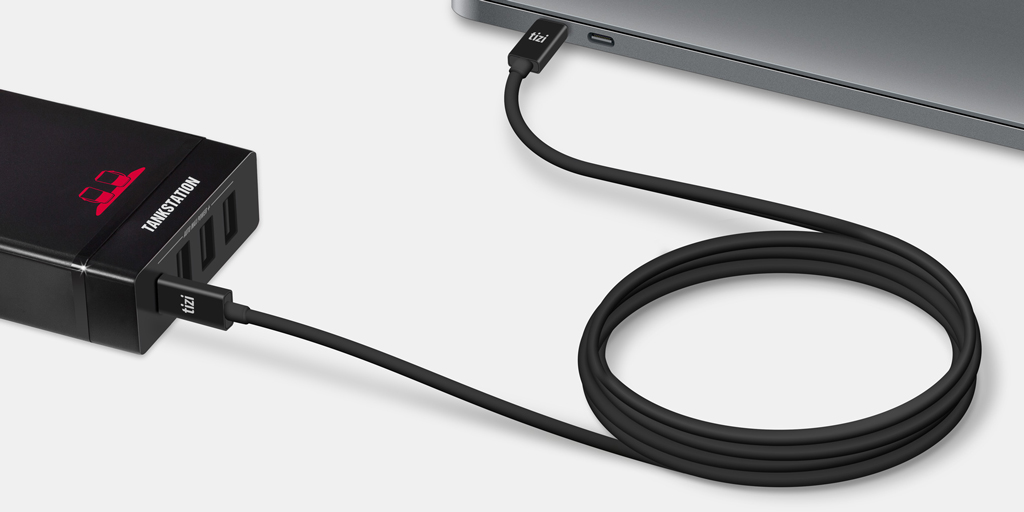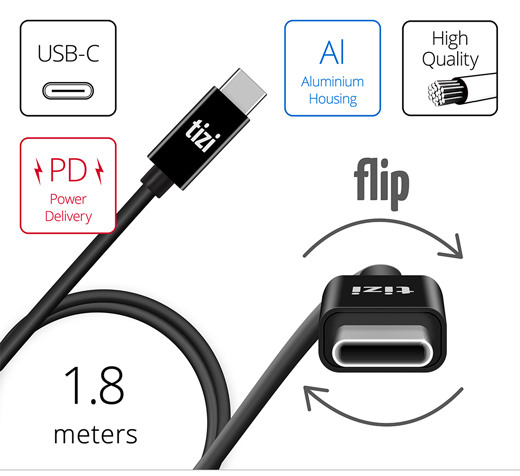 NEW tizi Flip USB-C

The super practical tizi Flip USB-C to USB-C cable connects your power adapter to all USB-C MacBooks and fully supports USB-C Power Delivery. This way, you're guaranteed mega-fast charging with up to 60W. Works best in combination with other members of the tizi USB-C PD family: tizi Tankstelle 60W, tizi Tankstation USB-C + 3 USB-A, and tizi Turbolader 2x ULTRA. With its convenient 1.8m length, you'll be perfectly kitted out for the day ahead.

USB-C Flip connector - works both ways
USB-C PD charging with up to 60W
Data cable configuration for syncing via USB-C (480 Mbit/s)
Extra long: 1.8m for even more charging flexibility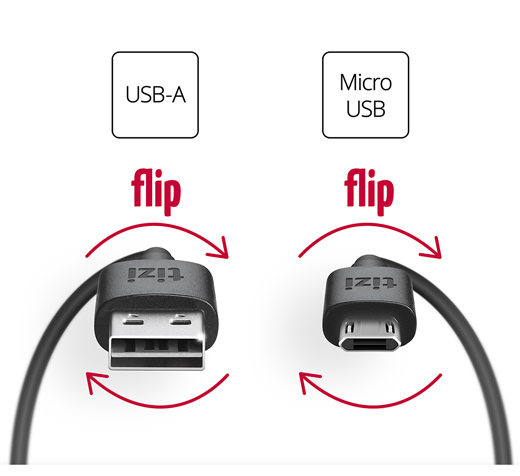 NEW tizi Flip Micro-USB

One of the most annoying connectors in the world: The Micro-USB connector. Small and fiddly, you never know which way to plug it in. Built-in to smartphones, power banks, E-book readers & speakers – almost every gadget uses Micro-USB. No more swapping and turning: The new tizi Flip USB-A to Micro-USB cable. Both connectors are reversible, so they will work both ways. Simply plug in whichever way you want and enjoy top charging speeds.

Flip connector on both sides –

designed to always fit

Available as

15cm or 50cm

Choose your style: available in red and black
Charge and sync

all Micro-USB devices

$12.99
Currently out of stock!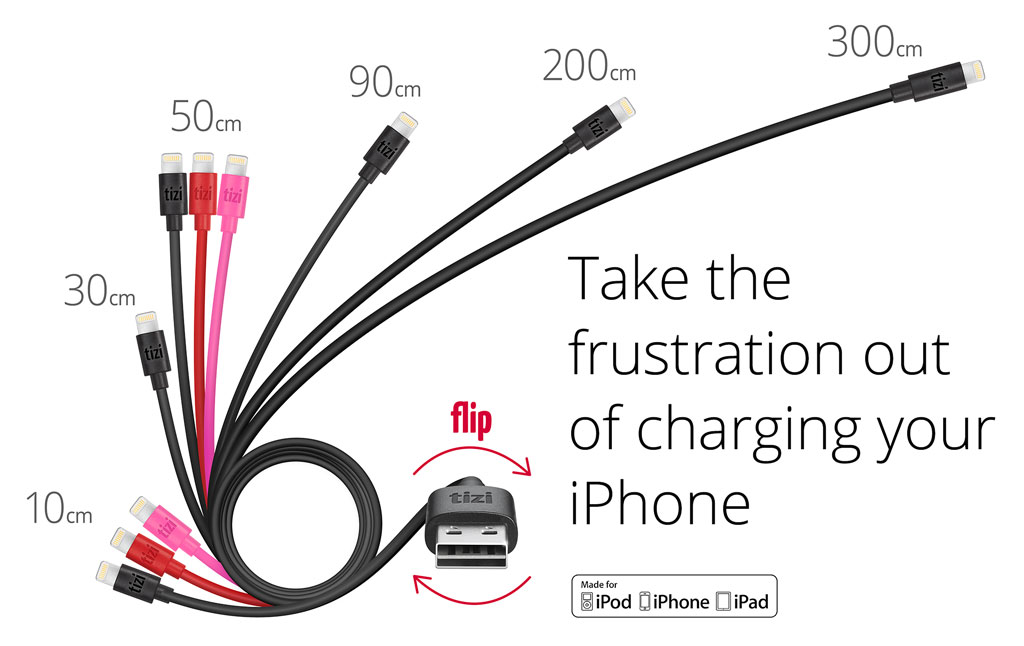 Many USB cables suffer from being twisted and tangled, sometimes having to be flipped over multiple times until they finally fit. Some cables are too long, while others are much too short.

The newest addition to equinux's tizi Flip family of cables is the solution to this predicament. tizi Flip cables are now available in a variety of colors and lengths, from 4 inches to 9.8 feet (3 meters) - ideal for all aspects of daily life.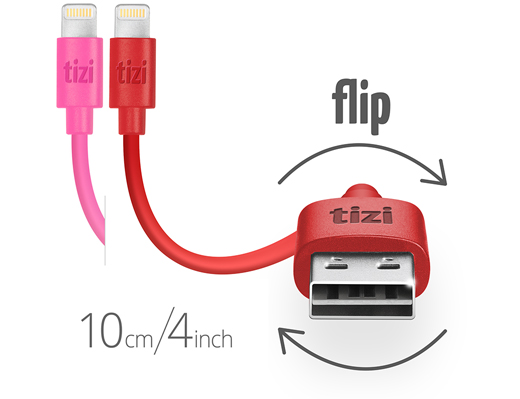 Great for on the go with an external battery
There are situations when a long cable is just too long. For example, when charging your iPhone with a powerbank. Sometimes shorter is better.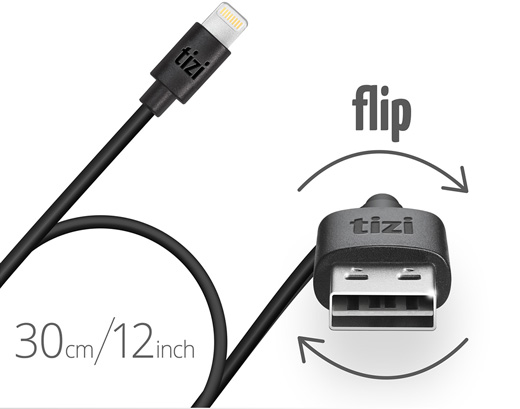 Perfect for in the car
Is 4 inches not enough for you? Just want to lay your iPhone on the dashboard while it's plugged into the tizi Turbolader? Then give the 12 inch cable a try!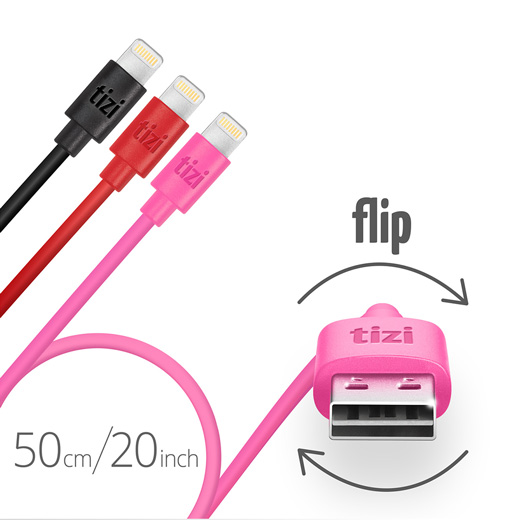 No more cable chaos on the desk
The tizi Tankstation and the tizi Tankstelle are the perfect solutions for the mess of cables and chargers on your desk. With the fitting tizi flip 20 inch cable, the disarray will disappear. Choose from 3 cool colors.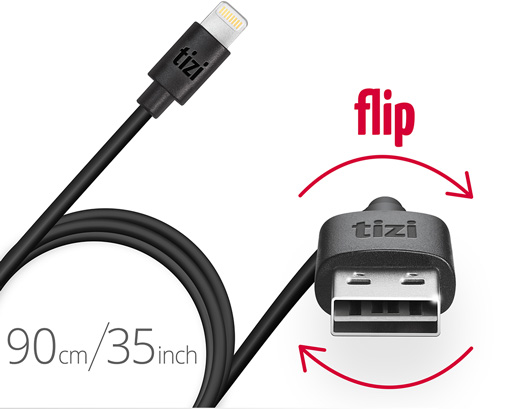 The classic for everyday life
Not too short, not too long - it's just right. The classic 35 inch tizi flip cable, no matter how you turn it, tizi flip always fits! Works great with the universal tizi Tankstation.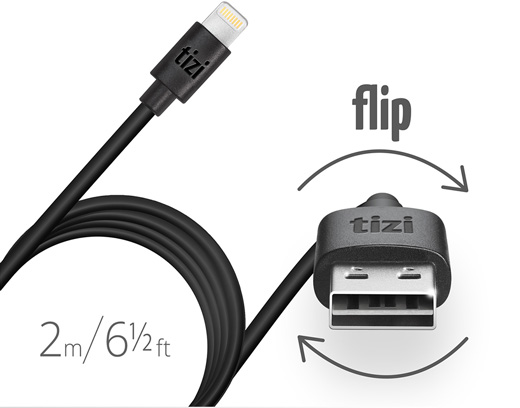 When it takes a little longer
On a road trip with the family when suddenly the two batteries in the backseat die? Don't worry mom and dad. The 6.5 foot tizi flip cable reaches from tizi Turbolader on the middle console to the kids in the backseat. Even in a mini-van.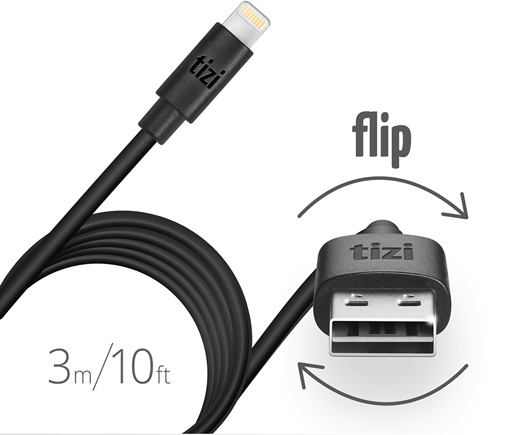 Maximum freedom
Those who need their freedom, need a lot of leeway. Enjoy surfing in bed? No problem. Plug your iPad into the Tankstelle with the extremely long, 9.8 foot tizi flip cable. Sometimes, size really does matter.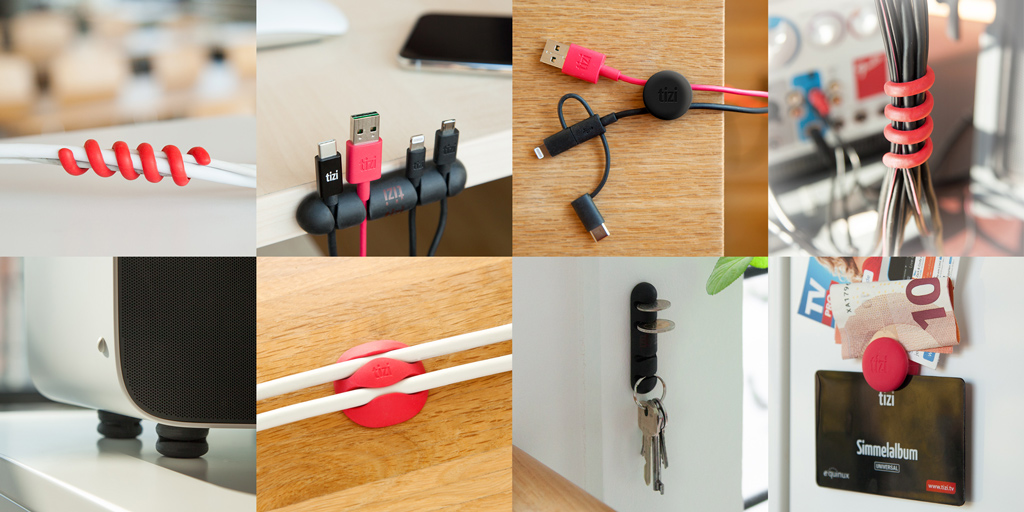 No more cable chaos
Introducing the brand new tizi Knubbis. Your little helpers, here to make your life tangle-free! Simply stick the cable organizer to your desk and keep your cables in place by fixing into the quick snap groove. Keep track of all your cables and never worry about them falling from your desk.