tizi Tankstation Pro 4x with 2x USB-C (90W)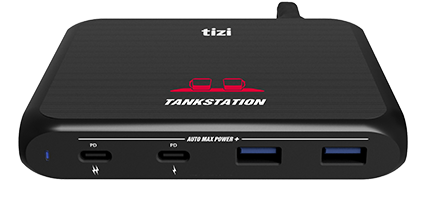 Quadruple high power charging station with 2 USB-C Ports

$119.99
Currently out of stock!
Two high-output PD ports – Parallel charging with 60W and 30W Power Delivery
Enough PD power for MacBook Pro and iPad or iPhone
Two additional USB-A ports with up to 15W
100% USB-C Power Delivery with: MacBook Pro (2016 onwards), MacBook (2017 onwards), MacBook Air (2018), iPad mini (6th generation), iPad Pro (2018 onwards), iPhone 13, 13 Pro, iPhone 12, 12 mini, 12 Pro, 12 Pro Max, iPhone SE (2nd Generation), iPhone 11, 11 Pro, 11 Pro Max, XS, XS Max, XR, X and iPhone 8
Charges iPhone 11 up to 4.5x faster* (than with the standard, included adapter)

*when using a tizi flip ULTRA USB-C to Lightning cable
tizi Tankstation USB-C + 3 USB-A (75W)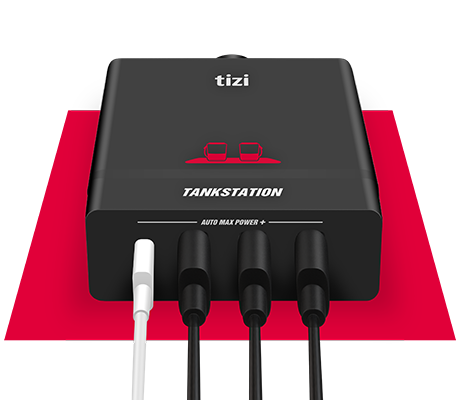 The ultimate Apple charger for MacBook Pro, MacBook, iPhone X and iPad
Enjoy the maximum charging speed offered to you by the newest Apple devices via USB-C PD. The bestselling charging station, tizi Tankstation is now available with a super fast USB-C charging port, as well as an additional three high-power USB-A ports. The ultimate Apple charger – perfect for work, home, and on the go!
100% ready for USB-C Power Delivery with: MacBook Air (2018), MacBook Pro, MacBook, iPad mini (6th generation), iPad Pro (2018 onwards), iPhone 13, iPhone 13 Pro, iPhone 12, 12 mini, 12 Pro, 12 Pro Max, iPhone SE (2nd Generation), iPhone 11, 11 Pro, 11 Pro Max, XS, XS Max, XR, X, and iPhone 8
Perfect for the new iPad Pro (2018) and MacBook Air (2018)
In just 30 minutes: charge your iPhone X from 0 up to 50%*
100% backup for Apple's 60W USB-C power adapter
4-in-1 adapter: 1x USB-C PD port plus 3x super speedy USB-A ports
*when using tizi flip ULTRA or an original Apple USB-C to Lightning cable