Ultimate Customer Experience for the Smartphone Generation
"We were looking for a USB outlet solution that could be easily installed into a piece of furniture. We were impressed with the high quality and easy installation of the tizi Toploader. This outlet was the first one we purchased and were pleased with it right away!"
- Kaitlin Reynolds, Marketing associate at ExpoMarketing

Innovative Exhibition Design from ExpoMarketing

The award winning team of exhibit designers at ExpoMarketing were on the hunt for a creative USB outlet solution which they could use for their innovative displays. They came across the tizi Tankstelle 4x MEGA Toploader, which they tested out on one of their stylish coffee tables, and were instantly impressed.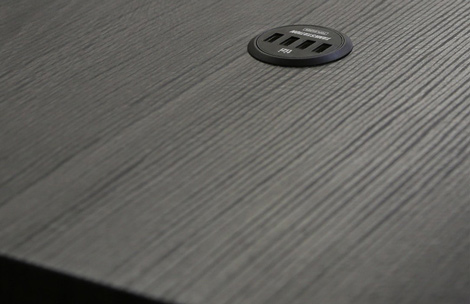 In today's smartphone generation, businesses need to be on the ball and ready for a new breed of customer. ExpoMarketing have been impressing their customers with innovative design solutions and a keen eye for detail since 1991. Today, the award winning exhibit design firm based in Orange County, California, are leading the way in providing an excellent service for a new generation of customers.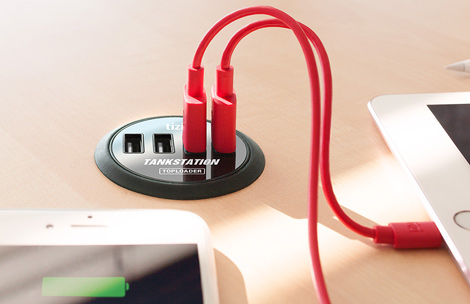 Expo individually designs all of their custom exhibition booths to the highest level of detail for all of their clients; making it no surprise that they were captivated by the smooth and easy installation process of the tizi Tankstation 4x MEGA Toploader. High speed charging combined with ultimate convenience is exactly what every modern-day business person needs to prepare themselves for a busy day meeting with clients.
Why tizi Tankstation 4x Mega Toploader?
We interviewed Kaitlin Reynolds, Marketing associate at Expo, to find out more about what drew her team to the tizi Tankstation 4x MEGA Toploader.
What differentiates ExpoMarketing from other exhibit designers on the market?
Kaitlin Reynolds: We provide unforgettable brand experiences through innovative face to face marketing.

Would you say that the tizi Tankstation 4x MEGA Toploader helped you to improve the customer experience at ExpoMarketing?
Kaitlin Reynolds: Yes, our plan is for our clients to use them in their exhibiting spaces, allowing their audience to stay longer and conveniently charge their devices.

Do you have a specific use-case example for the tizi Tankstation 4x MEGA Toplader? How do you use the product day-to-day?
Kaitlin Reynolds: Yes, we wanted a way to incorporate function and design. We incorporate a lot of work stations and coffee tables.

How would you describe your experience of the installation process and, more importantly, what could be improved?
Kaitlin Reynolds: The installation process was very easy. We also have a lot of white furniture pieces, so we would love to see a white plate and ring option to match.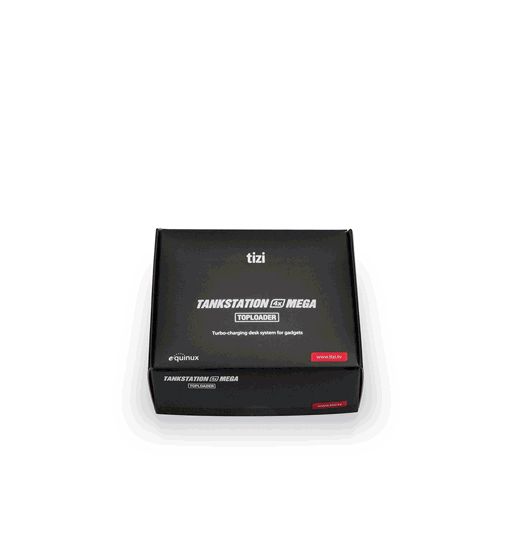 Included in Delivery

2 adapter rings 2 inches and 2 3/8 inches (50 / 60 mm)
tizi Tankstation 4x Mega Toploader charging device
Quick installation Guide
4x USB ports (each up to 2.4A)
Simultaneous charging (6A)
5ft. (1.5m) cable with US-plug
Quickly charge 4 USB devices simultaneously regardless of manufacturer.

It doesn't matter if it's an iPhone, Android, Tablet or Kindle. The intelligent Auto Max Power technology automatically recognizes which device is plugged in and delivers the right amount of power throughout the entire charging cycle.
Special deals available for business purchases

Inspired by Expo? If you'd like to make a business purchase, please send us an email and let us know how many Tankstation Kits you need. We'll get back to you ASAP with an individual quote.