tizi Tankstation Pro 4x with 2x USB-C (90W)
Quadruple high power charging station with 2 USB-C ports

$119.99
Currently out of stock!
Two high-output PD ports – Parallel charging with 60W and 30W Power Delivery
Enough PD power for MacBook Pro and iPad or iPhone
Two additional USB-A ports with up to 15W
100% USB-C Power Delivery with: MacBook Pro (2016 onwards), MacBook (2017 onwards), MacBook Air (2018), iPad mini (6th generation), iPad Pro (2018 onwards), iPhone 13, 13 Pro, iPhone 12, 12 mini, 12 Pro, 12 Pro Max, iPhone SE (2nd Generation), iPhone 11, 11 Pro, 11 Pro Max, XS, XS Max, XR, X and iPhone 8
Charges iPhone 11 up to 4.5x faster* (than with the standard, included adapter)
*when using a tizi flip ULTRA USB-C to Lightning cable
Revolutionary technology: Two USB-C ports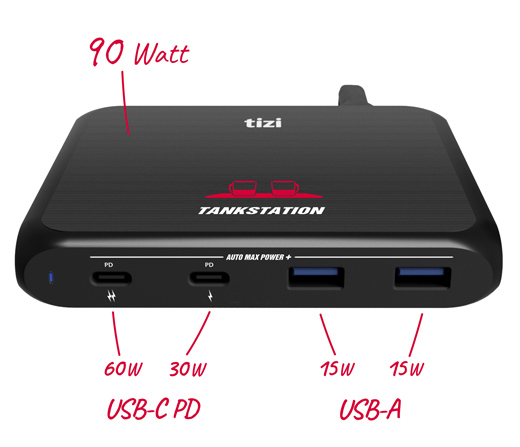 Quickly charges an iPhone or iPad parallel with a MacBook, thanks to two powerful USB-C ports. Even two MacBooks can be charged at the same time. If that wasn't enough, tizi Tankstation Pro also provides two additional USB-A ports to charge all your other gadgets!
Top speed PD charging with 90W total output
tizi Tankstation Pro provides an impressive total output of 90W and has the highest PD output of all charging stations currently available on the market - the majority usually only offer around 60W or 18W. It charges gadgets just as quickly as the original Apple adapter whilst still offering an additional port!
100% Apple PD tested

PD charging with up to 60W and 30W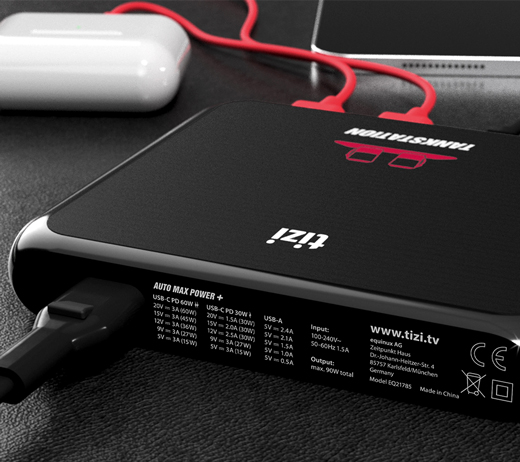 Perfect for at home or on the go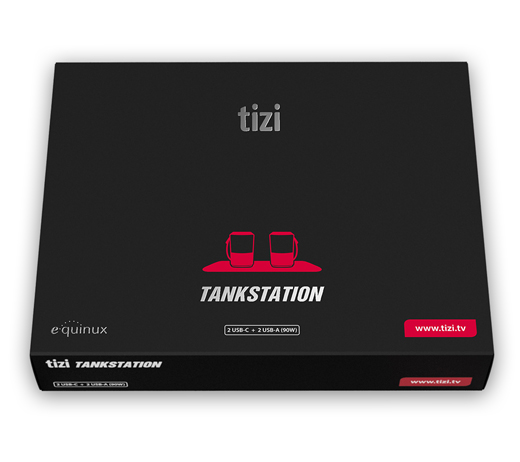 Save on luggage space with the compact and convenient tizi Tankstation Pro and bring just one adapter for up to four devices!
The power cable is removable and can be swapped - perfect for travel abroad.

Two additional benefits:
tizi Tankstation Pro charges silently and doesn't hum or buzz. It also comes delivered in eco friendly, 100% plastic-free packaging!
Get your tizi Tankstation Pro today
Support a team of German developers with Apple geekness and a passion for building high quality products.
What you get:

German production guarantee

Support without chatbots

Proper invoices, no tax scams

!
tizi Tankstation Pro 4x with 2x USB-C (90W)
Quadruple high power charging station with 2 USB-C Ports

$119.99
Currently out of stock!