Power is an understatement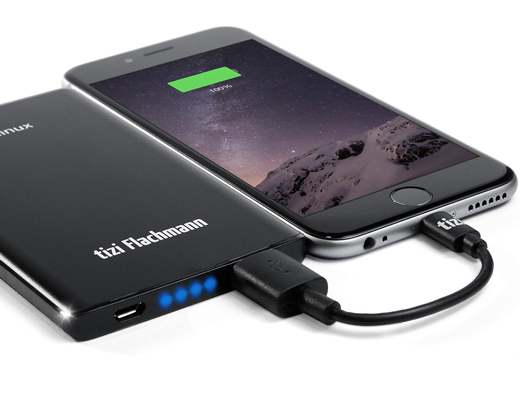 Stay connected no matter where you are. Never again let a weak battery stop you!
thin for shirt and jeans pockets (only 8mm thin)

lighter than every iPhone (only 109 grams)
fully charges iPhone up to 2x (14.9 Wh)

compatible with every USB chargeable device

includes a short micro USB charging cable
Travel design with a "wow" effect
tizi Flachmann is seriously flat and fits perfectly into every pocket. The tizi Flachmann has a stylish, matt black, aluminum design.
A perfect present for smartphone lovers
Give the gift of power! The tizi Flachmann comes in a sleek gift box with its own charging cable.
This battery is definitely not a poser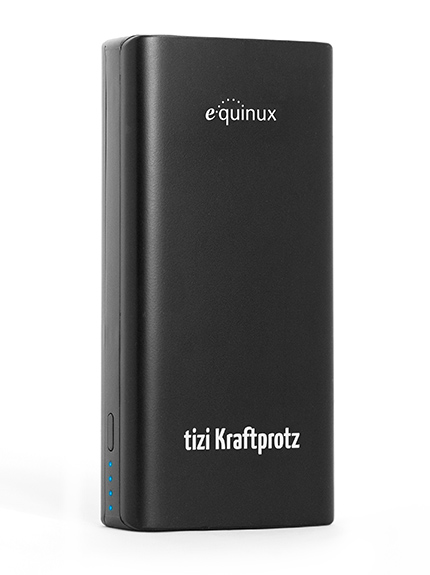 When your iPhone or iPad's batteries are weak, tizi Kraftprotz brings the muscle. With 37 Wh, it fully charges your iPhone up to 5x (depending on model); Your iPhone 6 / Plus or an iPad charges double as fast! tizi Kraftprotz - your power buddy for all gadgets.


Charge two devices simultaneously
Faster than conventional chargers: Quickly charge an iPad and iPhone 6 on the high power USB port (up to 2.4 A).
Perfect for all USB devices: Charge any device that can be charged via USB on a Mac or PC: Smartphone, iPhone, iPad, Kindle, tizi, tizi Beat Bag, iPod, digital cameras, PSP, etc

Jump-start help right out of the glove box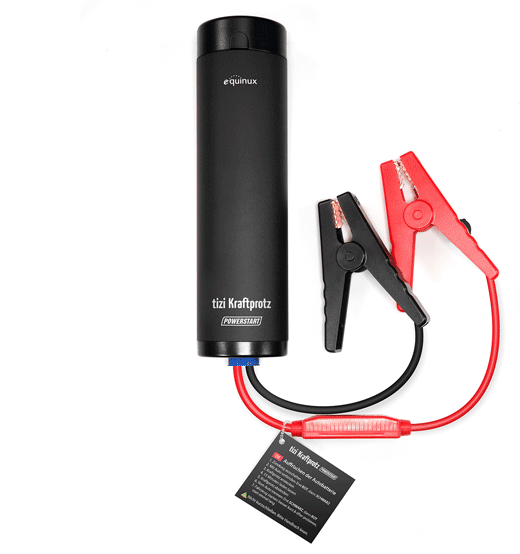 Extremely powerful, external battery with jump-start kit
The battery for today's lifestyle: The tizi Kraftprotz Powerstart, not only charges iPhones and tablets, it has so much power, it can bring you car's dead battery back to life. A brilliant life-hack: Just clip on the included jumper leads, charge, and start! Read why it's better to "refresh" a car battery than to jump start it.

Ultra-Power: 44.4 Wh – charge an iPhone 6s up to 5 times
Emergency jumper kit: recharge your car's battery
Mobile ready: Sleek aluminium body, mesh travel bag
LED torch with SOS function
Charge 2 gadgets (1x High Power, 1x Standard Speed)

Be prepared for looks of envy


Still searching for that perfect battery for your new iPhone 7? My friend, your wish has been granted. The super light tizi Flachmann ULTRA has arrived. The majority of the batteries on the market are ugly, blocky clumps. However, the new Flachmann ULTRA is actually sexy and fits weightlessly into any jacket, jeans, or shirt pocket. Live on the edge!
ULTRA-stylish: high quality alu-finish in Monza Red
Aero-design: only 6.7mm thin
Cool lifehack: integrated Lightning cable
24h-Power-Guarantee: 3200 mAh; Completely charge your iPhone 1.5x. Certified safe accessory: Made for iPod & iPhone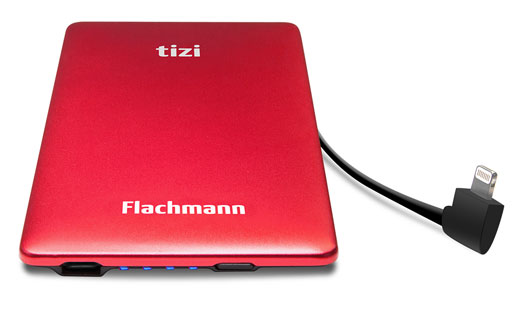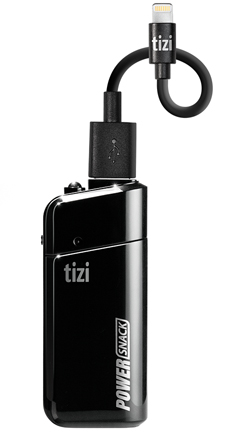 Just put two regular AA batteries into the PowerSnack, and feed your gadgets up to 15% capacity. That's enough for a WhatsApp, to check emails, or for a quick selfie.

The tizi PowerSnack is also a mini LED flashlight. You'll never be left in the dark again!

Power has never been so light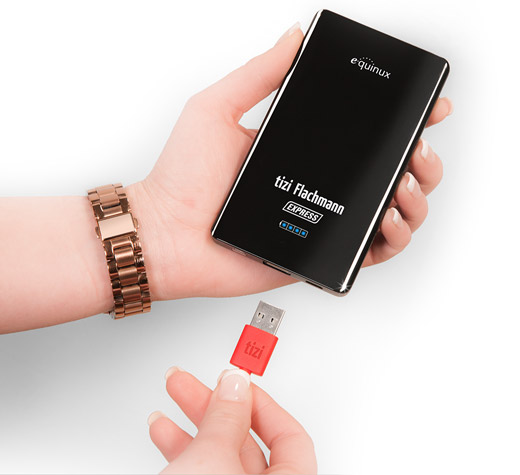 The new, sleek and slim tizi Flachmann Express recharges your smartphone up to 2x faster than you're used to: Your mobile charger must be jealous, because it doesn't get any better or faster than this. The pocket friendly tizi Flachmann Express actually delivers on its promise of power.
#jeansgate – Finally, a portable battery that doesn't leave a bulge in your pocket
Express charge: Speed-detection thanks to Auto Max Power™
Cable in – charge! Auto Power-On directly on USB-Port
Double power backup: recharge smartphones up to 2x
The ultra compact tizi Flachmann Express (10 x 68 x 120 mm) With 4000 mAh (up to 2.1A on USB port). Micro USB charging cable included in delivery.