Get your tizi.tv app
Please enter the 12 digit tizi code. You'll find this code in on your instruction booklet or under the battery cover. Accessories have a code on the packaging.
tizi apps at a glance
Satellite television on your Apple TV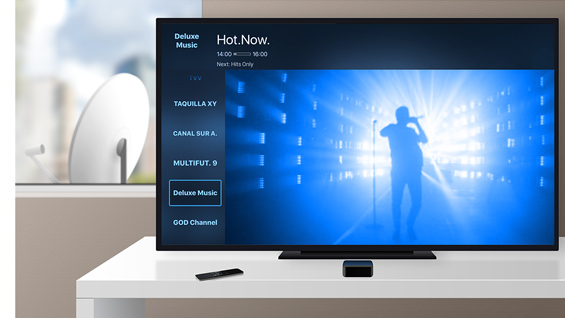 The 'TV Pro SAT>IP' App lets you watch digital satellite television live on the 4th gen Apple TV. All you need is a SAT>IP receiver. The TV Pro SAT>IP App works with all popular satellite receivers from leading manufacturers that support SAT>IP streaming over the network.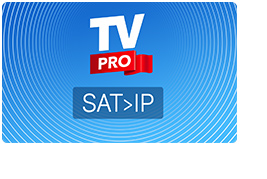 Just search for 'TV Pro' on the Apple TV App Store.
Key features overview

Complete overview of TV program with Electronic Program Guide (EPG)
Live Audience Numbers: Letting you know what's popular
Miss something? Use Visual Timeline to rewind to exact scenes
Record shows easily

Edit and share clips

Live Editor: Edit even while the program is running
Easily remove commercials
Share clips via email, Vimeo, and AirDrop
Archive recordings in the universal MPEG-2 format



Live TV on your Mac with extra fun-factor

Know what's on and what's hot by using the Live Audience Numbers. Have to see a scene again? No problem! Push pause and rewind with Timeshift in the Visual Timeline.

Record clips with just a click and simultaneously edit scenes. Now send those funny clips on to your friends! This is the modern way of watching telly.
Got a box of videos?

Edit film clips without waiting
Play videos with resolution up to 740x576
Remove unwanted frames
3 powerful editing modes

Finally safe on your Mac

Easy to view film archive
Export function for iMovie
Share clips directly via email, iMessage, and Vimeo
Save for the long term in MPEG format

Digitalize your analog films treasures onto your Mac

Transform analog videos from VHS tapes, Hi8 and Super 8 videos into digital memories on your Mac. Sit back and relax because digitalizing with the tizi Mac app is just as easy as watching TV.

The video signals work similarly to TV channels and are automatically recorded. Simultaneously to recording, you can edit clips! Now that is pretty cool! Your friends and family are already awaiting there first video!
Rec 'n' Roll: Recording (only with tizi+ receiver)

Record live with the app
Record and store with tizi+ storage
Clearly arranged archive, easy to navigate
Enjoy recordings on your Mac with the free app








Mobile live TV with iPad, iPhone and iPod

Now you can search for channels on the go. The tizi app for tizi, tizi+, or tizi go, offers the most modern television possibilities on the fly. What are you waiting for? Swipe and tap with Touch and enjoy the ultimate tizi TV experience!

Tv up close

Live Audience Numbers: know which programs are popular
Swipe, tap, and scroll o navigate and switch channels
Ideal viewing and use both in portrait or landscape

Never miss another show

Overview of TV program with Electronic Program Guide (EPG)
Visual Timeshift: Use Visual Timeline to pause and rewind
Record shows easily

Intelligent search, great subtitles and info

Search for channels and reruns of your favorite shows
Watch TV & surf simultaneously with tizi @ Home-Mode
Subtitle, sport, and news ticker
Teletexts from original channels with Touch operation
tizi Gadgets with your iPhone as remote control

Sit back in your recliner, grab your iPhone and zap away. Take full control of your tizi using your iPhone as a remote control for your iPad!

Have access to all TV channels
Control Timeshift with your iPhone
Clear overview of all programs
Start TV recordings